UMBC HAPP students attend Fall Symposium at JHSPH
Two students secure internships from networking!
October 29, 2015 10:18 AM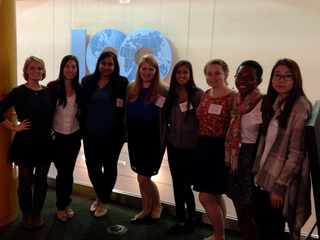 Nine UMBC HAPP Public Health Track students attended the 2015 Fall Symposium at the Johns Hopkins Bloomberg School of Public Health (JHSPH) on October 13, 2015. Hosted by the Wendy Klag Center for Autism & Developmental Disabilities, the event's topic was One Size Doesn't Fit All: Learning about Autism from Studies Big and Small. 
At the reception following the symposium, UMBC students had the opportunity to meet and talk with the speakers as well as graduate students of JHSPH who showcased their autism research at the concurrent poster session. 
Dr. Marie Diener-West, Chair of the MPH program at JHSPH, took time to meet with our UMBC students at the reception and provided invaluable information on their Master's and Doctoral studies. Through this networking event, two students have secured internship opportunities! 
Way to represent, HAPP Public Health Track students! You make UMBC proud!